Hydrogen Engine Cleaning
The

Problem:
Carbon buildup over the course of a vehicle's lifetime can cause a wide array of vehicular problems including: smokey exhaust, lumpy idle, flat spots, reduced throttle response, increased emissions, reduced MPG, DPF/EGR valve issues, sticky swirl flaps, sticky throttle body and sooted up waste gates. In many cases, these issues can be the difference between an MOT pass and a fail. So essentially, the dirtier a vehicle is, the greater the effect a carbon clean will have in restoring the vehicle's lost performance and efficiency. Carbon build up tends to be much worse in diesels and high mileage vehicles.
The Solution:
Engine carbon cleaning by hydrogen injection is produced by improving a natural phenomenon of enriching the air-fuel mixture in your combustion engine. Our solution is efficient and non- aggressive, as it does not introduce any chemical or corrosive products into your engine. The carbon is simply dissolved inside the engine and naturally evacuated with the exhaust gases where it is collected by a special filter.
After the treatment, your vehicle will regain its original performance!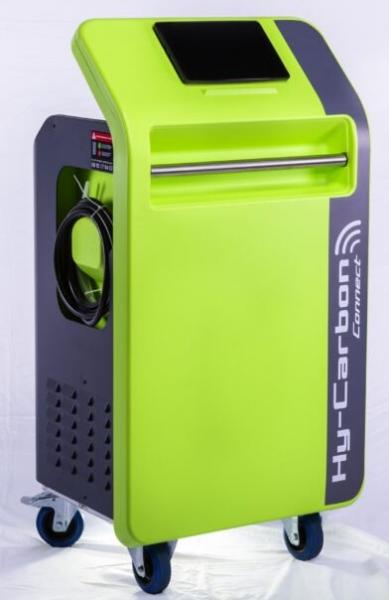 Why carbon clean your car?
You will find a much healthier engine, and can be shown by those fault codes that are corrected by carbon cleaning.
No more hard starting engine, high fuel consumption, low engine performance, dashboard lights, black smoke and sluggish acceleration. With our Hydrogen carbon cleaning, your vehicle will regain its original performance. Also removing the engine's soot, restores lost horsepower in your vehicle.
WIth these removal of the carbon deposits, your vehicle has a reduction in emissions and therefore better chance of not failing your MOT on emissions
Forget about expensive breakdowns
Almost three-quarters of the faults that occur with the engines are caused by carbon deposits.
New anti-pollution standards and speed restrictions increase carbon deposits in the engine and thus increase the possibility of the appearance of dashboard lights, or more seriously, of breakdowns.
By choosing carbon cleaning by hydrogen injection, you will avoid clogging and replacing expensive parts, such as the EGR valve (around £350), injection pump (around £1,000) or even the turbocharger (up to £2,000).
By eliminating scale in all types of engines, you will reduce exhaust gas emissions. Maintenance of the vehicle also plays an important role in eco-driving, economic and ecological motoring, for the good of our planet and your bank balance. By regaining its original performance, your vehicle will emit 50% less CO2 at least!

Please Contact Us to book your Hydroflow Engine Cleaning.